The camp will run June 7th – 9th for incoming 1st thru 8th grade boys and girls. The camp will be held at Seeger in the PAC and high school gym. There will be two time slots: 1st through 5th grade players will have camp from 1:00 to 2:15, and 6th through 8th grade players will go from 2:30 to 4:00. Please fill out the attached form!

The Health Department will be at Pine Village Elementary on July 28th from 10am-12pm & Warren Central Elementary on July 29th from 9am - 3pm. They will give the needed required immunizations to any MSD student grades K - 12. Insurance and Medicaid are both accepted. Call the Health Department at 765-762-3035 with questions.

Robotics Camp! May 31st-June 3rd 2022. Call the Williamsport Learning Center to register for incoming 1st - 6th grade students! (765)-764-1880

Seeger Youth Tennis Camp: July 25th-29th 2022 (No Cost) Please fill out attached form!

WCE 6th Grade Graduation and (k-5) Awards Ceremony. May 26th 2022 at 9:00 A.M.

ACT ONE Community Theatre is proud to present their 2022 Summer production of The Little Shop of Horrors! Auditions will take place on April 25th and 26th at 5:00 PM in the USMA! Anyone that is interested in auditioning for a role in the show should attend one of the audition nights. There will be two parts to the audition process! The first part will be a vocal audition where you will need to perform a song of your choosing that best showcases your strengths. You will need to bring any accompaniment music with you for us to play through our sound system while you are singing. You should prepare the entire song, but also be prepared to stop. Once we have heard what we need, we will ask you to stop. So my advice for you is to show what you can do right away and not expect to lead into it too much. The second part of this audition will be an acting audition. You will be asked to read several scenes from the show on command. We are looking for not only good readings, but also how you can block your scene on the fly and improv when needed. When we are finished for the night, we will let everyone know. Please do not leave right away as we may need to see more from you and may call you back to the stage for another reading or to sing for us again. If you have any questions, please do not hesitate to contact me at
dmori@msdwarco.k12.in.us
, Dave Baker at
dbaker@msdwarco.k12.in.us
, or Ervin Collins at
ecollins@msdwarco.k12.in.us
. For those interested in working behind the scenes this year on things such as hair/makeup, costumes, set crew, tech, etc... please contact Ervin Collins so he can get in contact with you when we get started. We will need lots of help in this area of the production so do not be shy in reaching out!

Seeger's 3 on 3 Basketball Tournament! Saturday July 2, 2022 Divisions: 3rd-4th; 5th-6th; 7th-8th, High School, Adults $20 per player, pay at the door! Doors open @ 8:00 am

Snow Days make up plan:

Happy Friday! Meet our latest WCE staff highlight: Pam Larson! Thank you Pam, for all that you do. 🍎

Find us in the App store by searching MSD of Warren County. We hope to utilize the app for convenience as well as communication in the future.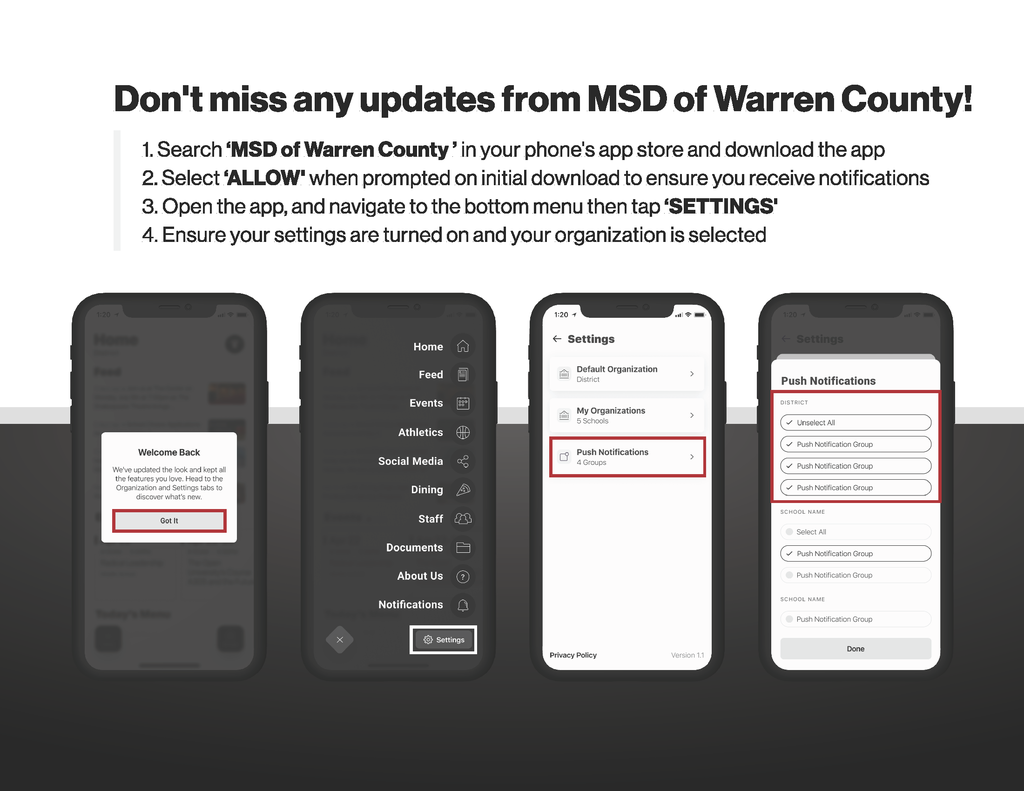 Thank you to Brown's Sugared Donuts for helping our students celebrate reaching their AR goal! The donuts were so good! 🍩📚🎄

We are ready for Christmas Break!

In all schools over the next 2 weeks, teachers are practicing calming strategies with all students. Your child can begin to use these strategies at home when frustrated with school work, friends, or family. When your child is upset or experiencing big emotions, remind them about the strategies they have learned such as: hot chocolate breathing, finger tapping, brain dump, belly breathing. Ask them what their favorite was, so they can use it. For more ideas and information visit
https://connectedfamilies.org/equipping-kids-calm-self.../